LAST UPDATED: June 23rd, 2022
Although belly fat is related to those extra pounds, there are different types of belly fat that can appear on a skinny body too.
Here you can see what are the most common types of belly fat and how to get rid of each one of them. (1)
So, let's start.
5 Types of Belly Fat in Men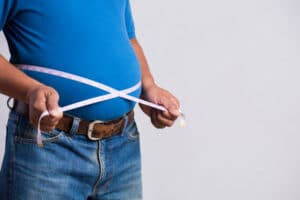 Bloated belly
Muffin top
Beer belly
Stress belly
Lower belly fat
How to Get Rid of Different Belly Fat Types in Men?
1.Bloated Belly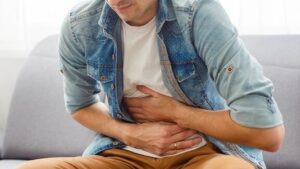 How does this belly look?
In most cases, your stomach is flat in the morning but it is bloated in the evening.
It gets flatulent as the sun goes down.
There are a few reasons for this belly.
Slow metabolism, gut problems, food allergy.
How to reduce this type of belly?
There are some foods you should avoid.
Avoid the worst foods for the gut like junk foods, alcohol, yeast, processed dairy products.
Include more vegetables and fish in your diet.
Don't skip breakfast.
Drink at least 10 glasses of water per day.
You should take probiotic supplements too. (2)
What exercises to do?
I suggest you try a cardio workout.
And the best cardio is walking, jogging and cycling.
2. Muffin top (love handles)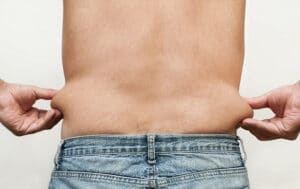 This is the most common type of belly fat that isn't related to obesity.
There are different reasons for this type of belly fat.
Drinking beer, a sedentary lifestyle, and eating sweets are the most common.
How to reduce this type of belly?
First, change diet habits.
Avoid sweets, pastry, and alcohol.
Eat high protein foods, nuts, avocado, fish.
What exercises to do?
Start walking more.
Run uphill.
Use the stairs rather than the elevator.
Cardio workout is the best.
Also, you can do cycle crunches, plank, and Russian twist.
These are the best exercises for belly fat.
Side plank is one of the best workouts for love handles.
3. Beer belly fat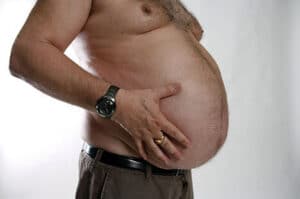 You have belly fat like you are pregnant but of course you are not.
How to get rid of this type of belly?
Include more fish and olive oil in your diet.
What exercises to do?
Try plank, reverse sit-ups, Russian twist, jogging.
4. Stress Belly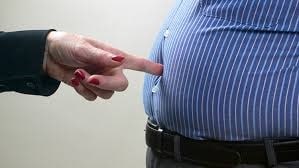 Your belly is bloated and hard due to chronic stress.
How to get rid of this belly fat?
Eat regular meals, reduce coffee, avoid fast foods.
Try to relax.
Sleep at least 8 hours.
Intake more magnesium, zinc, selenium, B complex.
What exercises to do?
The best exercise for this type of belly is yoga.
Try different yoga poses.
5. Lower belly fat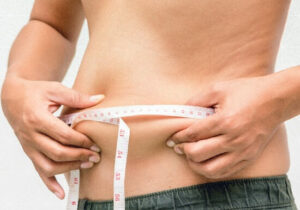 This belly fat often appears on a skinny body.
How to get rid of this type of belly fat?
Eat high fiber foods like apples, green vegetables, whole grain bread.
Drink more water.
What exercises to do?
Plank.
The classic plank and forearms plank are the best exercises to get rid of lower belly fat.
How to Lose Belly Fat Faster?
You can reduce belly fat faster if you combine the above-mentioned exercises with the best natural supplement.
The best supplement to lose weight and belly fat is PhenQ.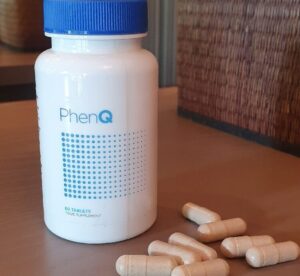 The ingredients in PhenQ will boost your metabolism and that leads to an increased fat-burning rate.
This way your body will burn fat layers from your belly faster.
PhenQ Ingredients
α-Lacys Reset – boosts your energy and metabolism.
Capsimax powder – this is a strong thermogenic mix of capsicum, piperine, vitamin B, and caffeine. It is a fat-burning mix.
Calcium carbonate – calcium assists your cells to store less fat and burn the stored fat.
Nopal – a plant extract that suppresses your appetite.
Caffeine – improves your mood and boosts metabolism.
Chromium picolinate – reduces hunger, boosts fat loss.
L-carnitine fumarate – turns fat stores into energy.
Also, PhenQ is a very effective appetite suppressant that will stop binge eating and help you lose weight.
PhenQ is the most used natural weight loss supplement among my clients.
You can read more about PhenQ and check the price here.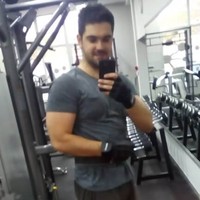 My name is Cliff and I am a personal coach, sports lover, fitness enthusiast and author of MusclesMagician. I have 15+ years of experience in fitness and bodybuilding and I want to share it with you. I am here to help you build muscles and lose fat faster.