LAST UPDATED: January 25th, 2023
Although belly fat is related to those extra pounds, there are different types of belly fat that can appear on a skinny body too.
One of the most common types of belly fat in men is the lower belly.
So, let's see how to get rid of this type of stomach fat.
But first things first.
What are the causes of lower belly pooch in males?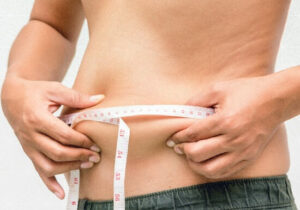 Any weight gain may be related to a bad diet and lack of physical activity.
However, what's common for people getting fat in the area of the lower abdomen is that the fat layers are mainly related to increased stress. (1)
In fact, the process that occurs is caused by cortisol, a stress hormone that affects the accumulation of fat layers in this area.
Of course, it is important that you take the problem seriously in this case, and try to reduce the level of stressful situations you are exposed to.
Besides stress, obesity, bad diet habits, and a sedentary lifestyle are other big reasons for lower belly fat.
How to Lose Lower Belly Fat in Men?
Best ways to lose lower belly fat:
1. Change your diet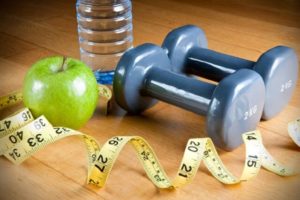 Reduce the intake of calories.
Period.
Don't eat after 7 pm or eat an apple before bed.
Don't drink calories – forget about sodas and beer.
Avoid carbs – don't eat pastry and cakes.
And don't eat calorie bombs – pizza, burgers and French fries are a big no-no.
Eat high–fiber foods.
Include foods like apples, green vegetables, and whole wheat bread in your diet.
2. Work out smarter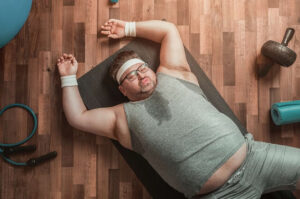 Although you will often hear that you should start doing crunches, you shouldn't.
Don't get me wrong, crunches won't make it worse, but they won't help you lose lower belly fat either.
You should try other exercises that will burn your fat layers.
Do cardio workouts.
An hour of cardio per day is one of the best ways to lose lower belly fat.
Choose between jogging, running, or cycling.
Weightlifting.
If you want to burn more calories, I suggest starting weightlifting.
Yeah, you should start going to the gym.
If you are a gym rookie work with a personal trainer, in the beginning, to avoid injuries and get the right workout program for your lower belly.
Plank.
This is the best bodyweight workout you should do for your belly and core muscles.
There are different plank variations but start with the classic one.
The classic plank and forearms plank are the best exercises to get rid of lower belly fat.
Hold it for 30 seconds.
After a while when you get stronger, you can plank for a minute.
3. Propper Supplementation
You can reduce belly fat faster if you combine the tips mentioned above with the best natural supplement.
The best supplement to lose weight and belly fat is PhenQ.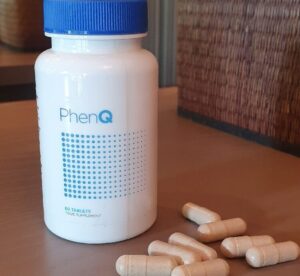 The ingredients in PhenQ will boost your metabolism and that leads to an increased fat-burning rate.
This way your body will burn fat layers from your belly faster.
PhenQ Ingredients:
α-Lacys Reset – boosts your energy and metabolism.
Capsimax powder – this is a strong thermogenic mix of capsicum, piperine, vitamin B, and caffeine. It is a fat-burning mix.
Calcium carbonate – calcium assists your cells to store less fat and burn the stored fat.
Nopal – a plant extract that suppresses your appetite.
Caffeine – improves your mood and boosts metabolism.
Chromium picolinate – reduces hunger, and boosts fat loss.
L-carnitine fumarate – turns fat stores into energy.
PhenQ is the most used natural weight loss supplement among my clients.
You can read more about PhenQ and check the price here.
How to Lose Lower Belly Fat in Men – Bottom Line:
This is one of the most common belly fat types in men.
How to get rid of this type of belly fat?
Eat high-fiber foods like apples, green vegetables, and whole-grain bread.
Drink more water.
What exercises to do?
Plank, cardio workouts, and weightlifting.
When it comes to supplementation, a natural supplement like PhenQ can help you speed up the process.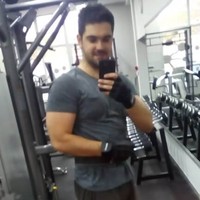 My name is Cliff and I am a personal coach, sports lover, fitness enthusiast and author of MusclesMagician. I have 15+ years of experience in fitness and bodybuilding and I want to share it with you. I am here to help you build muscles and lose fat faster.