LAST UPDATED: March 14th, 2022
Besides belly fat, one of the most common problems for guys related to their looks is man boobs.
Man boobs make men feel insecure, especially younger men.
I already wrote a detailed article on how to get rid of man boobs.
You can read how to get rid of man boobs naturally.
Or you can try the best exercises to lose chest fat.
Today I am gonna talk more about the causes of man boobs.
There are a few causes of man boobs.
4 most common causes of man boobs are:
1. Gynecomastia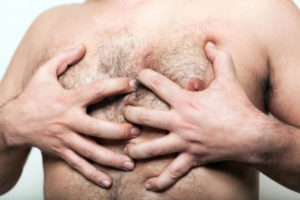 This is one of the most common causes of man boobs.
Gynecomastia is the medical term for man bobs and it differs from adipomastia or the existence of fat on the chest. (1)
Gynecomastia appears because of a chest and not fat tissue, as a result of imbalanced levels of the hormones testosterone and estrogen.
Hence, it is most common among middle-aged men and teenagers.
It affects 30% of men and there are mild and extreme cases of gynecomastia.
Gynecomastia is activated when the levels of testosterone are reduced compared to the levels of estrogen.
And boobs grow because of estrogen.
The causes for this reduction can be conditions that block the effects of testosterone, conditions that decrease the level of testosterone or increase the level of estrogen.
There are different reasons why your testosterone levels drop.
Lack of exercise, bad diet habits, and aging are the most common ones. (2)
Read more about foods that kill testosterone here.
And read how to increase your testosterone levels here.
2. Adipomastia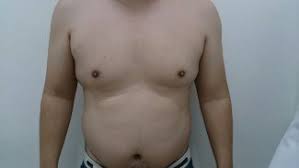 Adipomastia or lipomastia is a high percentage of body fat.
Why does this happen?
When you eat fat your body stores it.
And how it stores it depends on your genetics.
Some people have good genes and no matter how much fat they eat they are skinny.
However, the rest of us isn't that lucky.
So, if you have extra body fat on your chest you can thank genetics.
But, if you eat too much fat and your body can't store all of that properly, some of it ends up on your chest, regardless of genetics.
In that case, we are talking about adipomastia or lipomastia.
That's why you should decrease the amount of fat you intake.
3. Adipomastia and gynecomastia combined
The combination of adipomastia and gynecomastia can also cause man boobs.
Sometimes men have gynecomastia and increased body fat percentage that leads to this condition.
Anyhow, consult your doctor to determine what's your case, how bad it is, whether is adipomastia or gynecomastia, and what next.
4. Obesity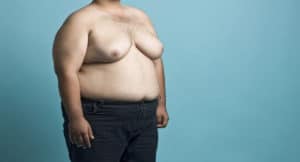 Well, obesity will cause fat on every part of your body and especially on your chest.
It's already clear that obesity leads to serious health problems, not just visual ones.
So, to get rid of man boobs caused by obesity you need to lose weight.
Start gradually.
Change your diet, increase physical activities.
Also, I suggest you consult a nutritionist and a personal trainer.
So, how to get rid of man boobs?
You need to change your diet and increase physical activities.
Workout tips:
Start working out
Try the best bodyweight workouts (dips, different variations of push-ups, plank)
Nutrition tips:
Lose weight since overweight can also be the cause of enlarged breasts
Limit the intake of salts (eat fewer ingredients high in salt); excessive intake of salt can cause breast swelling
Cut out unhealthy fats and sugars from your diet
Limit the intake of alcohol
Don't use drugs (one of the many side effects drugs bring is gynecomastia)
Exercise
Also, I suggest you try some natural supplements to lose man boobs faster.
And  one of the best supplements to get rid of man boobs is Gynectrol.
Gynectrol Review
Gynectrol helps you reduce man boobs thanks to the mix of natural ingredients.
These ingredients will reduce the level of estrogen in your body, raise the level of testosterone and destroy fat cells in your chest.
You can see every ingredient explained below.
Gynectrol ingredients:
Chromium – natural fat burner, basically converts fat into energy
Caffeine – combined with other ingredients helps you maximize burning fat in your chest
Guggulsterones – powerful natural fat burner, helps you reduce fat layers on your chest
Sclareoides – it lowers the level of estrogen and raises testosterone.
Theobromine cacao – contains the amino acid necessary for muscle gain. Also, it boosts your testosterone and magnesium.
Green tea – one of the best natural fat burners
You can read more about Gynectrol and check the price here.
Causes of Man Boobs – Bottom Line:
The main reasons for chest fat and moobs are:
Gynecomastia
Obesity
Adipomastia
Bad diet habits,  a lack of physical activity, sedentary lifestyle
The best ways to reduce chest fat are exercising, changing your diet, visiting your doctor and taking natural supplements.
The most effective natural supplement is Gynectrol.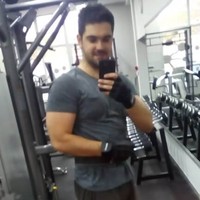 My name is Cliff and I am a personal coach, sports lover, fitness enthusiast and author of MusclesMagician. I have 15+ years of experience in fitness and bodybuilding and I want to share it with you. I am here to help you build muscles and lose fat faster.