LAST UPDATED: November 13th, 2022
If you want to gain weight naturally, it's very important to do that the right way.
Some will say eat fast food and foods high in carbs (bad carbs usually) to achieve your goals.
Well, that's one of the ways, but you will probably get fat.
If you want to gain weight and increase muscles you should do that the right way, without harming your health.
Skinny guys like me once need to get muscle mass, and not a pile of unhealthy fats.
You should eat healthy foods and do workouts to succeed. (1)
But also, you should choose the right supplement if you want to become a muscular man.
So, today you will read more about the best weight gainer for skinny guys.
As usual, I am gonna show you a natural product – not some steroids that will endanger your health.
This supplement is made only of natural ingredients.
Mass Gainer Review: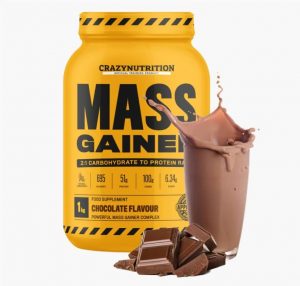 Mass Gainer is the best natural supplement for weight gain.
It is made by CrazyNutrition.
The benefits of Mass Gainer:
You will increase muscle mass
Weight gain without fat gain
You will boost your strength
You will have much more energy
And you will improve your muscle recovery faster after a workout
This is an ideal supplement for skinny guys who like exercising at the gym, home, or outdoor.
How does Mass Gainer Work?
This supplement is made of the 4 most important natural ingredients for weight gain and muscle growth.
But what makes Mass Gainer different from other weight gain supplements is the combination of the above-mentioned ingredients that will help you gain weight and muscles without erratic blood sugar spikes, gas, or bloating.
Also, Mass Gainer doesn't have the dangerous ingredient maltodextrin like most other supplements.
Besides weight gain, you will boost your strength and reduce recovery time after a workout.
Ingredients of Mass Gainer supplement
As I said, this supplement is made of natural ingredients only.
Here you can see the ingredients:
DigeZyme – improves your digestion and helps you absorb proteins faster for muscle growth
Carb10 – prevents blood sugar spikes
Senactiv– reduces muscle soreness
AstraGin – improves nutrient absorption for faster weight gain
Creatine Monohydrate – This is the most used creatine for weight gain.
One package is 2 pounds (1 kg) and it has 51g of protein.
You will intake 695 calories with one serving (6 scoops).
Furthermore, you will intake 100 gr of clean carbs and 8.8 gr of fat.
Note: You can check every single ingredient in the picture below.
How to take Mass Gainer?
It would be best if you took this supplement every day.
You can take it before or after a workout.
Also, you can take it between meals or replace a meal with Mass Gainer.
If you purchase this product, you will get a complete guide on using it.
Add 6 scoops of Mass Gainer to 16 oz of water (2 glasses), juice, or smoothie.
Shake it well, or stir.
You should take it once per day.
And the best time to take it is after your workout if you want to increase muscle mass.
One package is enough for 4-5 weeks.
For the best results, I suggest you use it regularly.
This supplement comes in two flavors – chocolate or vanilla, so you can choose one.
Mass Gainer Review – Testimonials
Here you can see some feedback from gym-goers that used this supplement: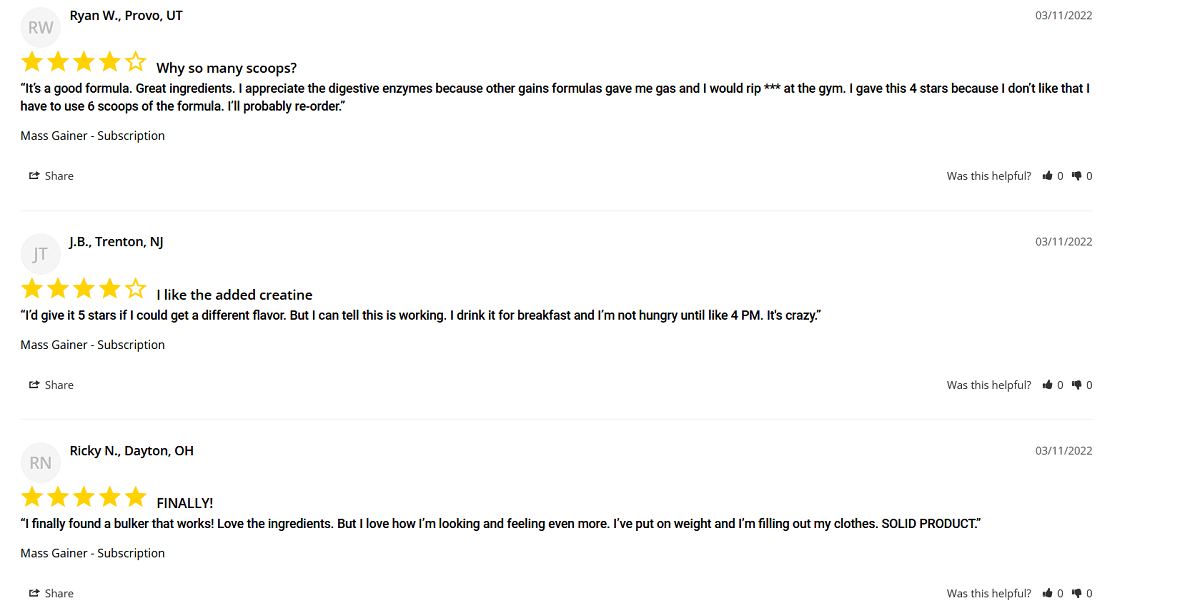 Safety and side effects
Mass Gainer is one of the safest weight gain supplements on the market.
This is a safe supplement that doesn't have side effects due to its natural formula.
Actually, this supplement has all the necessary nutrients for weight gain.
You will pump your muscles without other supplements' unpleasant side effects.
Of course, read the label carefully if you are allergic to anything.
Allergens are marked with bold in the ingredients label.
Where to buy Mass Gainer and price?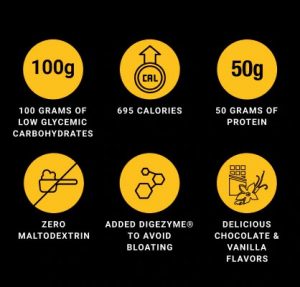 The only place where you can buy it is on the official website.
You can find the information you need there.
The price of 1 package is 34.99$.
If you subscribe you will get 20% off.
So, you will get one package for 27.99$.
One package is enough for 5 servings.
There is a 60-day money-back guarantee.
Shipping is free.
GO TO THE OFFICIAL MASS GAINER WEBSITE
Cons:
The only place where you can buy it is the official website
You need to shake or stir it and prepare it (for some guys this is boring)
Pros:
Faster weight gain
You will add muscles mass
You will not gain fat
Also, you will have much more strength and energy
Mass Gainer Review – Bottom Line:
Mass Gainer is definitely the #1 weight gainer on the market.
You will bulk faster, increase muscles, strength, and energy.
You should take Mass Gainer regularly to get faster results.
One serving (6 scoops) has 695 calories, proteins, and carbs for safe and effective weight gain.
The price is low and you will get free shipping and a 60-day money-back guarantee.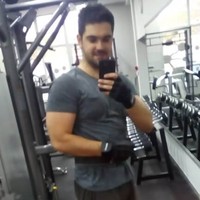 My name is Cliff and I am a personal coach, sports lover, fitness enthusiast and author of MusclesMagician. I have 15+ years of experience in fitness and bodybuilding and I want to share it with you. I am here to help you build muscles and lose fat faster.