LAST UPDATED: March 31st, 2021
My job requires spending hours at the gym and after reading the WHO's advice, I analyzed what's necessary to protect yourself when you exercise at the gym during the corona pandemic.
Unfortunately, we don't know everything about the coronavirus, but we do know about the transmission of the coronavirus.
So, what are my tips about exercising at the gym during this pandemic?
First, if you have some medical problems, don't go to the gym at the moment.
Be responsible and protect yourself and others.
If you are going to the gym read my guidelines.
Also, if you don't want to go to the gym, read more about the best outdoor exercises here.
Best Tips to Stay Safe at the Gym During the Pandemic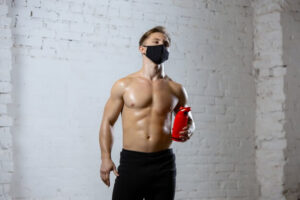 Respect the rules when you enter the gym.
You need to use hand sanitizer or wash your hands with soap and water.
There are also shoe disinfectant mats that you should use.
Follow the instructions and keep a safe distance.
Disinfect the machines
Before using a machine make sure it's safe to use it. Use a disinfectant spray or alcohol to wipe it.
The disinfectant should be at least 70% alcohol.
Don't assist other gym goers
Maybe you will not be popular at your gym, but in this situation try to avoid helping other gym members.
Especially, if they don't keep a safe distance.
Use a towel
During your workout, you should use a towel on every machine you use.
You should put a towel on every surface you touch on the machine you are using.
Wash your hands regularly
Wash your hands every 10 minutes during a workout.
Of course, avoid shaking hands or any other greeting that involves touching or kissing.
Drink water
Hydrate yourself before and during a workout.
Drink water that's not too cold.
To stay healthy and to boost your immune system you need to compensate for the water you lose during a workout.
It goes without saying that you shouldn't share your water bottle with anyone.
You can somehow mark your bottle if you don't want to mix it with someone else's water bottle.
You can read more about drinking water for muscle mass here.
Pay attention to hygiene after a workout
Wash your hands immediately after a workout.
Also, take a shower.
What about wearing a mask during a workout?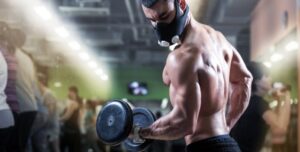 Well, that depends on the gym.
Wearing a mask helps stop the spreading of the coronavirus.
But, wearing a mask can limit the oxygen flow during exercise and that can cause some health issues if you work out.
If you ask me, if the gym requires wearing a mask then skip an indoor workout and go outside and exercise.
Norwegian Study
A study conducted in Oslo showed that gym-goers have a smaller chance to get the coronavirus than those who don't go to the gym.
At the beginning of the experiment gyms across Norway were closed down.
1,896 gym-goers, (half of the study participants) 18-64 years old, without any health problems, got the chance to work out in 5 chosen gyms.
Everyone followed the rules, they kept 6 feet social distance and used disinfectants for the machines and their hands.
The only people they had contact with were other gym-goers and gym staff.
Most of them exercised 4-6 times per week.
The other half of the study wasn't allowed to go to the gym, but they were allowed to do their daily activities.
There was only one coronavirus positive case confirmed during the study and it was from the group of participants who weren't allowed to go to the gym.
So, Norwegian scientists somehow proved that there isn't an increased risk of getting the coronavirus at gyms.
Of course, further investigation on this topic is required.
You can read more about this study here.
Exercise Safely at the Gym During Coronavirus – Bottom Line:
My opinion:
It's not good to use the pandemic as an excuse not to work out.
If you don't exercise there are other risks, like getting obese and diabetes.
So, you should exercise and stay physically active.
You should follow the above-mentioned tips to exercise safely.
Of course, if you have any doubts consult your doctor.
Also, follow measures taken by the government in the country where you live.
Stay safe and strong!
If you want to read more about the best supplements you should use to achieve your goals during the pandemic, click on the link below: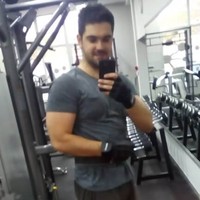 My name is Cliff and I am a personal coach, sports lover, fitness enthusiast and author of MusclesMagician. I have 15+ years of experience in fitness and bodybuilding and I want to share it with you. I am here to help you build muscles and lose fat faster.