LAST UPDATED: April 28th, 2022
You probably know that there are 2 types of workouts at the gym: weightlifting and cardio.
Each of them has a special place in the workout program since the effects are really different.
When we talk about cardio exercises, folks that want to lose weight and get rid of fat layers prefer them.
Look:
To lose weight and fat it is not enough to just do cardio.
The real transformation starts in your kitchen.
Cardio workout can be helpful only if you have a healthy and balanced diet.
Here's the kicker:
Weightlifting (weights and machines) burns more calories than cardio. (2)
Period.
It's a fact and let's accept that once and for all.
Cardio is great for your entire body and stamina in general, but when it comes to weight loss, you can use it in addition to other exercises.
Nevertheless, you shouldn't stop weightlifting and do only cardio.
You can read more about the best weightlifting exercises here.
But, since we are focusing on cardio today, let's see more about the best cardio exercises for weight loss.
Best cardio workouts for weight loss:
1. Running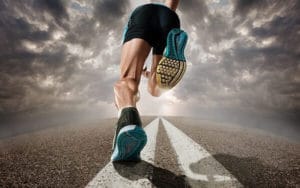 Running or jogging, it's no1 cardio workout.
An old-school physical activity.
Running is one of the basic cardio exercises and since you don't need any special equipment you can do it almost anywhere.
Just pick your favorite: treadmill, parks, stadiums, streets…
The most important thing is that when you run you burn a lot of calories, especially if you run uphill at a faster pace.
The only drawback may be that running requires good stamina and focus because you can easily injure your knees and joints.
Choose a good surface for running (gravel, trail) and try to avoid asphalt if you can.
Also, using a treadmill is one of the best cardio for weight loss at the gym.
2. Cycling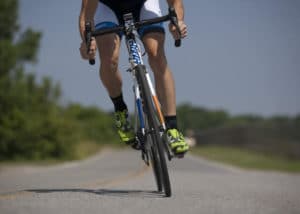 Definitely one of the best cardio workouts for weight loss.
Cycling is a very useful cardio exercise for your stamina and endurance.
Besides, it will make you sweat, get rid of toxins, and lose weight.
And it's fun, so it'll easily become your favorite exercise.
You can get a stationary bike at home and continue cycling over the winter.
3. Jump rope workout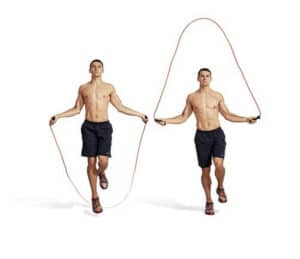 Jumping rope is another cardio exercise that will help you get rid of fat.
You can try different techniques and exercise at a different pace, but be sure you will sweat.
If you want a more intensive workout, increase the speed or jump more.
This is one of the best cardio exercises you can do at home.
All you need is a jumping rope.
4. Swimming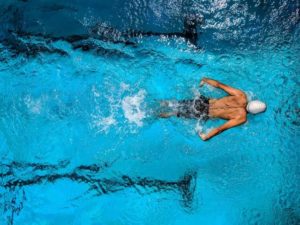 Swimming is a full-body workout that is also many guys' favorite.
To get better results, try different styles, change the speed, and the intensity.
You can burn 14 calories per minute, which is 420 calories per 30 minutes of swimming.
Also, it is the best cardio exercise for your muscles.
5. HIIT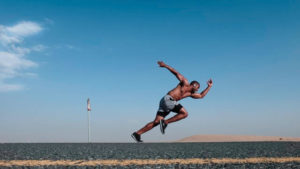 How to perform High-intensity interval training?
Work as fast and as strong as you can for 30 secs (intensive training should make you feel as you can't do a second longer than that).
And then rest your body by working out moderately for 90 secs.
Repeat the intensive and moderate exercising 7 more times.
You can use equipment that's most convenient for you- an elliptical machine, a treadmill, or you can swim, run, whatever it takes to give your maximum for 30 seconds.
To avoid injuries it's necessary to warm up.
Also, start with two reps and slowly increase to 8 reps.
Don't do 8 reps the first time you exercise, especially if you haven't exercised in a while.
An intensive workout program lasts 20 minutes
Only 20 minutes!
75% of that time goes to warming up and moderate exercising, so you do only 4 minutes of intensive exercising.
If you've never tried this type of workout, you will find it difficult to believe at first that it takes only 4 minutes to achieve your goal.
How often should you do cardio workouts for weight loss?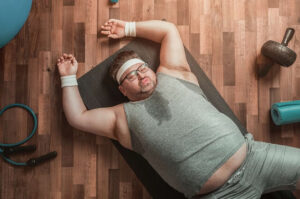 If you want to lose weight I suggest you work out 3-5 times per week. (3)
If you are a beginner, 3 times is enough.
It's recommended to exercise for 20-60 minutes.
20 minutes for a high-intensity training (HIIT, CrossFit, sprints), 60 minutes for a low-intensity workout (jogging, cycling).
Exercising has a cumulative effect, so you can have 2 workouts-30 minutes each, 6 workouts- 10 minutes each, or 1 workout-60 minute.
Short interval workouts are better for guys who haven't exercised in a while.
Diet and cardio workouts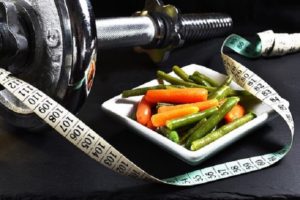 As I said cardio workouts mean nothing without a balanced diet.
Adjust your diet depending on the goal you want to achieve.
If you want to lose weight with cardio avoid greasy, fried food, white bread, and pastry, and eat a lot of veggies, fruits, and wholegrain pasta.
Eat animal proteins like turkey, eggs, and dairy.
Cardio Workouts for Weight Loss – Bottom Line:
It doesn't matter which cardio exercises you do.
The effect is more or less the same.
The best cardio is the one that you prefer and you can constantly do without getting bored of it.
So, whether it's running, cycling or swimming, the point is to be consistent and not to give up.
Also, don't forget to change your bad dietary habits so that you can lose weight.
So, the best cardio workouts for weight loss are:
Running
Cycling
Jump rope workout
Swimming
High-intensity interval training
If you want to see what are the best natural fat burning supplements I am using for cutting, click on the link below: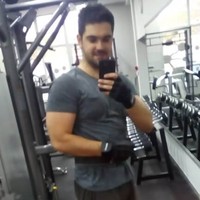 My name is Cliff and I am a personal coach, sports lover, fitness enthusiast and author of MusclesMagician. I have 15+ years of experience in fitness and bodybuilding and I want to share it with you. I am here to help you build muscles and lose fat faster.