LAST UPDATED: May 25th, 2022
One of the most common questions I get is how to continue exercising when you aren't motivated anymore.
That surely happens at one point in your exercise routine.
For example, you planned to work out 3-4 times per week, but you only get to work out once.
Well, if you have a 30-day break in exercising you have to start all over again. (1)
And remember how much effort you put to get to the next level.
If you make a big break you will lose muscle tone and you will get fat layers.
3 Best Tips to Stay Motivated to Exercise
1. Don't have unrealistic goals
Before you go to your first workout you need to do some tests and weighing to get a realistic image of your body and health.
You can do the tests in most gyms.
Weigh yourself before starting to exercise.
Don't weigh yourself every day.
It's best to weigh yourself in the morning every 30 days.
Why?
Because you don't need to do that every morning, it's unnecessary pressure.
That's why it's important to set realistic goals.
Only 10% of gym-goers continue to exercise regularly after their first month.
So, set a goal that's possible to reach within a month.
If you have any doubts, consult a personal trainer.
2. Stay persistent
If you aren't motivated enough in the beginning, it will be hard to reach your goal.
This is why is important to stay persistent and never give up.
I think the best motivation you can get is your health.
Unfortunately, people realize how important physical activities are only when their doctor mentions that.
Don't wait for things to get serious.
Stay persistent in order to protect your health not to cure the consequences.
On the other hand, many people start exercising because other people make them do that.
They are not really motivated and try to find excuses not to work out.
If you are one of them, you need to find motivation, something that will keep you going and that's important for you and not for people around you.
The best motivation is the good feeling you have after a workout.
A feeling that you did something good for you, something that will help you be healthier and better looking.
When you start loving that feeling, you will reach your goal and you'll be more motivated.
There will be ups and downs, for sure, for example when you are just not up for a workout.
But, if you make yourself go to training then, you will be satisfied because you didn't give up and you didn't fail your body.
3. Organize yourself and your time
If you want to stay attractive and healthy then you need to spend 60 minutes per day on physical activity.
You don't have to do that every day, 3 days a week is good for starters.
That's just 12 hours per month for you and your health.
If you spend 2 hours a day on social media, then you have time to exercise.
Some studies show that only 150 minutes of exercising per week are enough to see results.
You can exercise 30 minutes a day, 5 times a week, for example.
Spend about 10 hours on exercising and that's the best investment you can make.
Stay Motivated to Exercise – Bottom Line:

For me as a trainer, when someone loses 50 pounds or has a Rock Jonson body isn't an amazing success.
The biggest success for me is when someone starts loving exercising.
So, it's not an obligation but it's a fun, enjoyable activity.
Stay persistent, set realistic goals, organize yourself and you will be attractive and healthy.
If you want to reach your goals faster, check some of the best fitness supplements on the link below: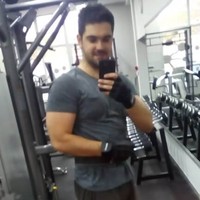 My name is Cliff and I am a personal coach, sports lover, fitness enthusiast and author of MusclesMagician. I have 15+ years of experience in fitness and bodybuilding and I want to share it with you. I am here to help you build muscles and lose fat faster.